Our Roots & Give-Back Mission
Love Cultivated is a purveyor of farm-inspired artisan provisions. We value small batches, organic ingredients and time-honored practices and believe that the magic that comes from living with the seasons, tending to flowers and little goats, and intentional, heart-inspired crafting is something you can feel when you purchase our products. Because connecting with nature in the garden fills our spirits, we hope to encourage YOU to connect with the earth and to cultivate beauty of your own by including plantable tags on many of our products and offering seeds and flower tubers in our seasonal gift boxes.  
Through our journey learning to grow and make beautiful things, a new idea began to emerge: How could we create a business doing what we loved while contributing to the greater good? We believe that through farming, crafting and sharing, community is born- and when we help each other, we cultivate what matters most.  Our give-back mission sends 5% of our proceeds to the Center for Farmworker Families, a Central California based non-profit dedicated to improving the lives of farmworkers and their families through a broad range of services including supply distribution, educational outreach and pesticide regulation advocacy.
We hope you'll join us on our mission to cultivate love, beauty and community.
Contact Us
We'd love to hear from you!
Phone us at (831)295-2396 or
email natalie@love-cultivated.com
All of our products are proudly handcrafted in Ben Lomond, California 95005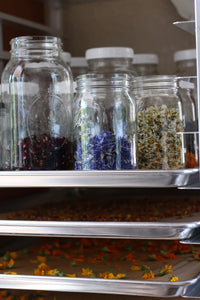 We gratefully acknowledge branding design by AMARIE Design Co. Photos by Jose G. Lopez Jr., Carole Daly & Dana Arnold.